Broadway Tour of Oklahoma is OK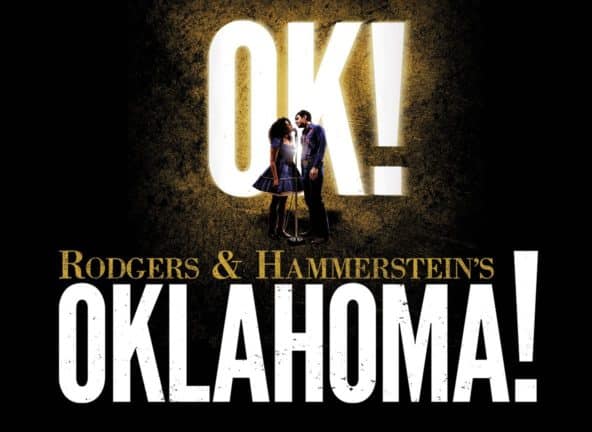 When I exited the theater, I wasn't quite sure how to feel about the Broadway tour of Oklahoma playing at the Orpheum in downtown Minneapolis. But the more I thought about it, the more I started to like it. I had never seen the original, so this was my first experience with this apparently classic show.
Immediately the first thing to notice was the set. It was oddly simple and easy on the eyes. Made up of eight picnic tables with a white sheet on top of all of them and  surrounded by wood walls with guns hanging on plenty of the space, this made me think this would be a guns-a-blazing type of production. However, the energy never quite rose to that level until the very end. It was a lot more subtle than I expected.
Speaking of subtlety, they chose to act several scenes in the complete dark, totally relying on the words to carry the scene, which made for some of the more surprising parts (jump scare warning.) The choice to incorporate an infrared camera near the end of these blackouts, felt almost like a vlog. As the camera moved from face to face, I couldn't help but feel out of place. It's cool, don't get me wrong, but maybe not in this specific setting.
Finally, the characterization and the vocals were the highlight for me. Although the story line was a bit difficult to follow at the beginning, the actors gave it their all to communicate what was unfolding before our eyes. Unfortunately, the chemistry between Laurey (played by Sasha Hutchings)   and Curly (played by Sean Grandillo )wasn't quite enough to be convincing. They were strong vocalists, but were overpowered at times by the band. Hopefully that's a minor issue on opening night and will be adjusted through its run here. It took me a while to even see Judd Frye (Christopher Bannow); he was slinking around unnoticed until he spoke. My first thought was, who are you and why is there a song about you now? The voice that stood out the most for me was Sis who played Ado Annie. Her voice felt so empowering. Every moment she was on stage was fantastic.
While some aspects did put me off and didn't exactly feel right, it would be criminal of me to not say how amazing the actors were. The band was on point and was very satisfying to listen to. This show was worth my time and I think it would be worth your time to watch this production as well.