Too Fetch to Function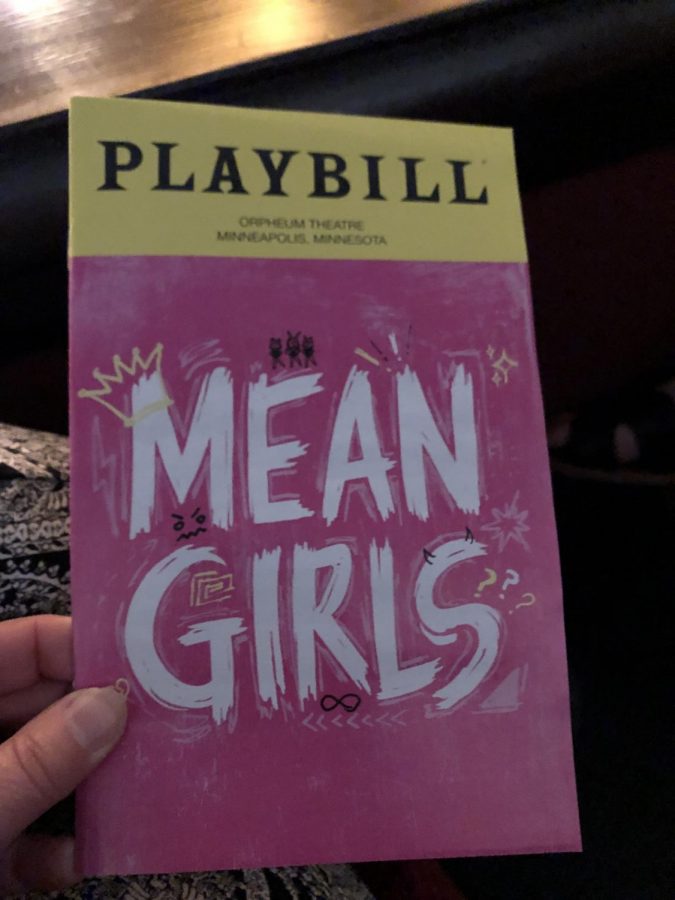 Lexi Johnson, Guest Writer, Critical Review
October 10, 2019
We all know Tina Fey's hilarious movie starring Rachael McAdams and Lindsay Lohan, ​Mean Girls. W​ell, the musical version of the hit movie is just as wonderful and crazy. With the same comedic storyline as the movie and with music written by Jeff Richmond, Tina Fey's husband, ​Mean Girls​ is extremely entertaining to watch.
The set is so simple yet so complex. It is mostly made of huge screens that surround the stage in an "M" looking figure. Even though almost everything is projected, the set looks so real and the scene changes are absolutely flawless.
A repeated concept of the set and show as a whole is pink. Pink outfits, pink beds, pink walls, pink background, pink everything. As soon as you walk into the theater you will see the pink and all the "Burn Book" papers on the screens and immediately get the vibe of the show.
A big part of the show is the comedy. At some points it feels like the writer focused more on getting laughs than anything else. It certainly worked, especially with the character Damien, played by Eric Huffman. He was really "to gay to function", and has so many hilarious one liners that are delivered perfectly. Janis (Mary Kate Morrissey) is also an extremely funny yet strong willed character. Her vocals are incredible during her song "I'd Rather Be Me," as well as "A Cautionary Tale", "Revenge Party", and "Apex Predator." Almost everyone has outstanding vocals, although Regina George's ( Mariah Rose Faith) vocals are a bit less than superior. Her songs "World Burn" and "Someone Gets Hurt" both require an extremely strong voice, which Mariah doesn't seem to acquire.
All the music in the show is incredible, including the band. The pit is outrageously talented. There will definitely be times when you will wonder if there is a recording rather than a live band. Their tone equality and tonation is pitch-perfect. Almost the entire band is made of local musicians, and there are only four members that actually tour with the show.
The fact that about nine Minnesota based musicians can come in with not much practice and play effortlessly is amazing. They do an incredible job at decrescendoing when the singers have powerful moments and playing at full volume while the dancers have insanely clean dance breaks. The dancing throughout the show is amazing. Casey Nicholaw, the choreographer, did a wonderful job at using props to their advantage. Lunch trays, tables, chairs, and many other different props are used throughout the dances.
Overall, ​Mean Girls ​is a wonderful musical. The comedy, the characters, the vocals, the dances, the band, and the set are just a few things that contribute to this amazing show. The storyline and resolution has such a great message, especially for high schoolers.
There is no one better to be than yourself. Go see ​Mean Girls ​next time the bus rolls around, but make sure you don't get hit by it!