SFHS Music Department Goes International
SFHS Media and Riley Brennhofer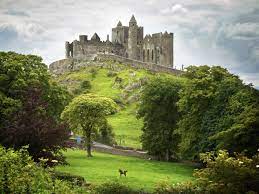 Enthusiastic students chatter amongst each other as they board their flights, which will take them across the globe for a week in Ireland over spring break. There, they will perform traditional Irish music, and take in the beauty of the country whilst learning all about the local culture and history.
"I'll admit, the idea was Mr. Telschow's," said David Bechard, director of the band department at SFHS. "Last year, it was a 'band trip year,' so the band goes on a trip every other year, and the choir as well, and it being my first year [at SFHS], we didn't have anything lined up yet. So, Mr. Telschow said,'why don't we push it off a year and go big?' and we decided to go international."
There has been months of planning put into this trip. Discussion regarding an international trip started 16 months ago, and around 12 months ago, the trip was announced publicly to the students.
"When we decided that we wanted to go international, we talked to our tour company, Gateway Music Festivals, and they brought up the idea of Ireland," said Bechard. "They call it 'The Gateway International Trip;' because most of the people there speak English so it's going to be really easy for us to get in and find our way around, and to fit in. Also, it's Ireland! So we were just excited at the idea of that."
Despite the program being offered through a school program, there is still a large price to pay in order to tag along on the trip. Students currently traveling to Ireland with the music department have paid $3,000 for the trip. This cost includes airplane tickets, bus travel, breakfast and dinner, and any additional fees for touring cities in the country.
"I am mainly excited for the food – I love trying new food – I like to learn about music culture, so like kind of experiencing what other countries like about music, because there's actually some differences," said Jacob Dethmers, a junior in choir. "And, we're performing at a couple of different churches and a couple of different schools, and I think it's going to be really interesting to meet the people." 
A full itinerary has been created for students going to Ireland. From March 4-12, each day will be packed with unique activities and once-in-a-lifetime experiences for everyone to participate in.
Bechard said, "So the music department is going to just explore the country! We've got a couple tours of a few castles, taking some riding tours with the tour guide around some of the towns and sites, we're going to spend a day working on a farm and experiencing that, and we've also got three concerts planned, so we're going to combine with a couple local schools to perform, and then we're going to do a separate concert by ourselves."
As fun as the trip may sound, it comes with its own set of unique challenges that students must face – specifically, the students that will be performing in the band.
"One of the biggest challenges that we're going to face is traveling with all of our instruments," said Bechard. "The choir's got it easy – their instruments are 'free to carry on the plane,' but some of our larger equipment, especially our percussion equipment: we'll have to get creative with the way we pack it into our suitcases, or we're going to find a rental for it when we get there."
Students are able to bring three different bags with them on the trip at no additional cost: a suitcase to go under the plane, a carry-on to go in the overhead storage, and a personal bag to put under their seat. Instrumentalists that have a larger instrument, or even a medium-sized instrument, may need to use their case as one of their three bags, limiting how many things they can bring with them on the trip.
Instrument transportation isn't the only difficult part regarding the trip to Ireland. Europe is very different compared to the United States, and Ireland is no exception.
"Things are different over in Europe! One of the biggest things is that you need to have a wall socket converter because they don't run on the same electricity – I mean, electricity is electricity – but, it comes out of their walls a little bit differently, so you need to have like an extra converter box, so that you can actually plug our normal two-pronged plugs into the wall," said Bechard.
"Also, when you're touring around town, you can't just walk into a McDonald's and use their public restroom; a lot of the places in Europe you have to, and in Ireland it's the same way, but you actually have to pay to use the bathroom. "
According to Bechard, when students are touring around town, they can't just go to any store and use their public restroom; most places actually require a small fee to use their restrooms.
"Which seems weird," said Bechard, "but when you think about it, it actually works out. It's not very expensive, and that money goes to keeping the thing running and keeping it clean."
 "I'm looking forward to traveling and just sightseeing, because I've never traveled anywhere," said Samantha Dunphey, a junior in the Wind Ensemble.
On February 28, 2023, a domestic concert will be held in the SFHS PAC at 7:00pm. The concert will be open to everyone who is interested in hearing what the music department is bringing to Ireland. Both groups will be performing a mixture of popular American and Irish melodies.
This trip is a big deal for Saint Francis, and everyone involved is beyond excited to start the nine day adventure. Bechard said, "we really, really want a big crowd [at the concert] to make sure we have a great experience, that we're playing and singing for an audience, and that we can really get a feel for what it's going to feel like when we get out to Ireland."