Student turns passion into profit
Nathan Roberts refurbishes cars for cash
Most students work hard to buy the car that gives them the freedom to avoid the bus, go to work, and after school activities, but senior Nathan Roberts has been working on a 1967 Chevy K-10 for months. 

He is a big car guy who enjoys working on different vehicles. Roberts first saw this old hunk of junk in April on the side of the road for $400.

"

It's a beautiful pile of crap"

— Nathan Roberts

said Roberts.

 The old truck didn't run or start at all and he brought it home to work on. He put hours into this truck as well as about a total of $2000. 

"The starter had to be replaced, the carburetor had to be rebuilt, the gas lines had to be replaced, the rear differential had to be rebuilt, the distributor had to be rebuilt, all of the brakes and brake lines had to be replaced, and much more," he said.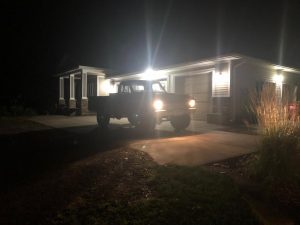 One thing that was really difficult and time consuming was figuring out the distributor timing, which is how the engine runs.
"At some points it was so frustrating, I would punch the side of my truck," he said. "You could say it's kind of a money pit."
Nathan sold his truck on Saturday, October 5th for $2,800 cash to a guy from northern Minnesota. He made around $800 in profit.
Right now he's saving his pennies for his next purchase. A recent Craigslist post caught his eye, but this time he's looking at a $4000 investment. In the meantime, he scours Facebook and Cragslist for good deals.