Practice makes perfect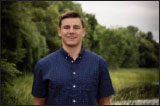 There is no doubt that wrestling is an individual sport. There's no teammate to blame, no coach to admonish for calling the wrong play, no official to point at for blowing a call. It's just you. At least, when you're on the mat. But the team idea is also important for other key elements like training, development, and support. The person with whom you drill in sweat-filled rooms when no one's watching, your practice partner, will play a large role in how your season plays out.
One St. Francis wrestler who has had recent individual success is Kyle Lindenfelser. Lindenfelser qualified for the Minnesota State Wrestling tournament after making it to the Section 7AAA finals and wrestling his way to a solid 2nd place finish.
Lindenfelser has done many amazing things this year including reaching the 75 career varsity wins mark and winning plenty of tournaments along the way. To the outside eye, Lindenfelser seems to win all his matches with ease and without worry. However, I have an inside look into the preparation and success he has found. There is no one who would know the amount of work that Lindenfelser has put in this season more than his practice partner, and luckily, his practice partner is me.
There has been lots of sweat, blood, and even a few words that have been taken in between Lindenfelser and myself. There's a saying that goes around the wrestling community, "You're only as good as your practice partner" and it can't be more true. Ask any wrestler who has had any success and nearly all of them will say that they couldn't have done it without their practice partner.
Lindenfelser is an incredible athlete and wrestler and I'm not claiming to take any credit for his success, but I know that I played a key role in his preparation. Training with Lindenfelser not only improved him, but it translated over to my own individual success. I found out that my own skills were being heightened from practicing with other competitive wrestlers.
Being in varsity wrestling for a few years now, I've had some unique partners, Lindenfelser actually isn't the first practice partner of mine that has had great individual success. Last year, I wrestled with Cole Kirpach, who ended up winning the section 7AAA title and making it all the way to the Minnesota State finals match. One thing I learned from Kirpach was that I can improve myself and my future partner by going after it everyday and wanting to "win the day." I took this guidance and ran with it.
We were constantly pushing each other, working on things we weren't good at, and working on new techniques that helped translate to our hands being raised at the end of our matches.
After working with two state qualifiers, I realize the partnership I formed with these athletes will carry into other aspects of my life long after the last hand has been raised. I learned to work side by side with another person even when in direct conflict. I learned problem solving skills and will not be discouraged if something goes wrong; I will try another tactic. I learned mental toughness – even when I feel on the brink of failure, I can push through and succeed. And when Kyle competes at State, I know that I'm right there with him – pushing him to excellence.