Five Minutes of Fame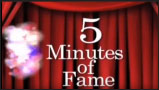 The St. Francis Band program is home to many, but in particular one stands out.
Senior Elliot Kohler is a leader both in and outside of the music program, being gifted musically and academically. Kohler has been playing the piano since 4th grade and started band classes in 6th grade.
"Elliot is a leader in the band program," said band director Taylor Eichinger. "He spends countless hours practicing before and after school. He's always in here during Saints time – always practicing."
He plays in jazz band, marching band and both winter and indoor drumline and is a member of the highest academic band – Wind Ensemble.
"Optimally I practice a half an hour a day" said Kohler. "A lot of the time I'm arranging and playing it and arranging it as I learn it, so that takes a little bit longer."
Mason Shields, a fellow student has appreciated all of the guidance he has received from Kohler.
"He's a big mentor in band class with music that I don't really know, and to other percussionists in our grade" said Shields. "He really shows the other students a lot and helps out."