Arts Matter: Fine Arts students rally to bring awareness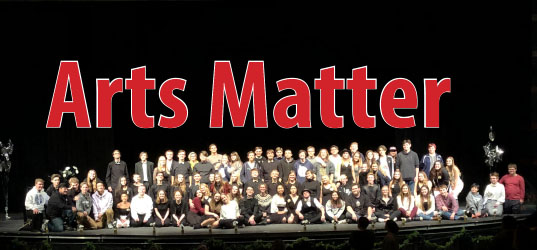 Why do schools cut programs that hold some of the largest student enrollment and keep students from going PSEO?
The arts programs at SFHS have been historically strong. The band program has held up its reputation for being spectacular when it comes to curricular bands, drumline, and marching band. The choir program continues to win high honors in vocal performance, Madrigals and Show Choir. The theatre program brings in Spotlight awards every year with the spring musical, gives students opportunities in the Critical Review program, and consistently finals in competition one act. Finally, the visual arts program continues to turn out award winning artists in painting, drawing, photography, and sculpture.
With recent budget cuts the students involved in these programs decided to take a stand. One student in particular, Maya Chavez, wanted to take action and start a fundraiser.
"I started the Arts Fundraiser simply because my passion for the music and the fine arts," said Maya Chavez, " We really care about it…it means a lot to us."
The Arts Fundraiser wanted to showcase all of the amazing arts programs including; choir, band ceramics, theater, painting, photography, and drawing. The show featured performers singing, acting, and playing instruments. In addition, students curated an art show in the PAC hallway and everyone who wanted could show their amazing artwork.
One performer who sang in the showcase, Tess Humphrey, explained her reasons for wanting to perform.
"The arts have always been a big part of my life," said Humphrey, " I thought it would be a fun experience to show the people how important the arts is to us and people like me."
The fundraiser was lead by three main producers; Maya Chavez, Amanda Renfro and Madison Nelmark. They gathered a group of volunteers to bring the whole thing together and it took place on November 17th.
"I'm so overwhelmed, there is so much talent in school," said Sarah Vogel.
The showcase brought laughter, tears and happiness to the audience. It also brought an amazing amount of money to help with all arts programs.
A big contributor in the fundraiser was a new school board member, Jake Humphrey, who offered to donate his school board pay of $6,000 dollars to the fundraiser.
"It's amazing how this was just run by students," said Madison Weidenfeller, "It's so cool!"