A Tale of Three Painfully Awkward Blue Men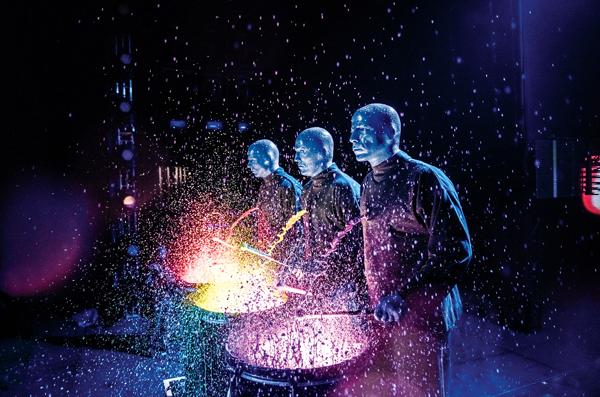 From a young age, I was taught that staring at people was rude. Since I didn't want to be rude to others, I didn't stare. the Blue Man Group seems to think that staring is some kind of sign that you are accepted into their group. The Blue Man Group is an interesting talent act that entails three men with blue masks on that can play different percussion instruments, and in addition, they have to know how to keep a straight face and work an audience. With all of these skills, the blue man are absolutely talented, but as someone who is awkward, it was hard to watch the three of them be painfully awkward for entertainment purposes.
Since the start of the Blue Man Group, their shows have been entrancing audiences worldwide. It is estimated that 35 million people have been entertained by the trio. Out of the 35 million that have seen the group perform, the thing I would like to know is how many of them came back for more. I had seen a production in Orlando two years prior to the performance, and I was hoping that the touring show would be different. I was disappointed. This definitely is an art form, but I don't personally consider it theater. The "plot" of the performance was nonexistent beyond the fact that the three men on stage could drum and people clapped for them when they raised their hands.
Audience participation is a major element of the show, and I found myself laughing at some parts. Others I was bored with. From the balcony of the theater, I didn't feel engaged for most of the performance. The lower level was exclusively used for those selected to go on stage. From the lower level, for what seemed like forever, the men found a woman in the audience to have a dinner of twinkies with. First of all, they were very selective in their approach to find this special member of the audience. After they finally found her, all they did was stare at her from across the table. Somehow the audience thought this was funny, but I did not. At another point in the show, the men selected another (dare I say lucky?) member to hang upside down in a painting experiment. I didn't find it entertaining, in fact I was worried for the poor guy. He, from what we saw, turned out okay, but I didn't see the joke in it. I couldn't tell if the audience members that participated were planted into the crowd or if they were actually selected at random.
As I watched everyone be dazed in awe of the Blue Man Group, I just left the theater with a "meh" feeling. They weren't bad, but they weren't fabulous either. I will not stare at the group in awe, because of what I was taught as a young person. Dear Blue Man Group, staring is rude, and I would rather just listen to you drum instead of trying to connect with the audience.
*Note: Laura Wyatt is a writer for the Hennepin Theatre Trust's Critical Review Program http://www.hennepintheatretrust.org/criticalreview