Soccer Captain Signs with D2 College Despite Injury
Senior Annika Fingal Works to Follow her Soccer Dreams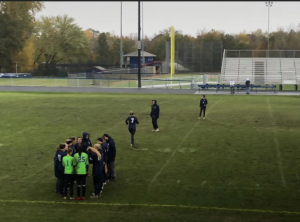 Senior captain Annika Fingal had a serious injury that took away the rest of her soccer year on August 27th at home against North Branch. 
Right after the injury, Fingal was wheeled to an ambulance on the field that transferred her first to Maple Grove and then to North Memorial Hospital. Fingal stayed the night and ended up with a fractured tibia and fibula.
Making matters more complicated, her mother was at the game, but her step-dad was at the boys' soccer game, which was being played in North Branch. He received word about the injury from a neighbor who witnessed the injury, while Annika's mother attended to her daughter on the field. 
"Soccer is a huge part of my life and it was hard to think about it," said Fingal, "because my senior year was being taken away from me."
Fingal remembers telling the trainer Dustin that she couldn't be out of soccer because it is literally her entire life.
As the year went on,  Annika was there for her soccer teammates. As hard as it was for her not to be playing, she wanted them to be the best they could be without her. 
During those initial days of healing when she was stuck at home, Fingal had people supporting her every day, bringing her gifts and visiting.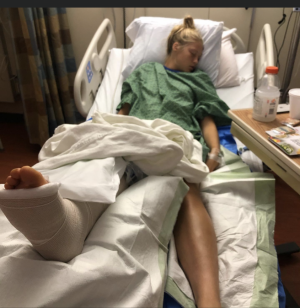 Even though she sustained serious injury, Fingal was right when she didn't think this moment would end her career. Before the injury, she was already accepted to Bemidji State to play D2 soccer and major in nursing. 
After the injury, her future college coaches let her know she was still welcome to play. They called her with words of encouragement to heal and come back stronger than she was before.
"I am excited to play for Bemidji and be with all my club teammates," she said. 
Fingal already knows a number of her future team because they played together on a North Metro team.
In order to prepare for college soccer, Fingal continues with her  therapy to make her legs stronger. Besides re-training with a physical therapist, Fingal works on her own at home.
"I have to work on balance and strength on my right leg and then I usually do leg press and single leg squats," said Fingal.
She has taken away many lessons from this experience and hopes to share with those who are going through  hard times. 
"Never give up on something you love so much," she said.