SFHS Senior Zach Gust Competes in MN All Star Football Game
December 3rd senior Zack Gust had the opportunity to play football hosted by the US Bank Stadium for the All Star game. Here is some info on his experience and what his team mates thought about it.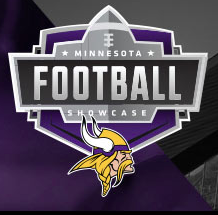 St. Francis High School Senior, Zach Gust,was chosen to compete in the Minnesota All Star Football game on December 3.
Gust has been playing football for St. Francis since first grade. He has played almost every position on the field throughout the years.
"My favorite thing about football is playing with friends and making memories with the boys," said Gust.
The All Star game was hosted at the US Bank Stadium on Saturday, December 3rd. They choose the top 22 players from both the northern and the southern part of the state to compete against each other. The players stay in a hotel Wednesday through Friday to practice, and then have a banquet with their families on Friday night, before the 3:00pm game on Saturday.
SFHS varsity football players share what it's like having Gust as a teammate.
"He is a very good teammate. He has a positive attitude everyday, which would help bring up the team's energy," said senior Tanner Kunshier. "He always competes to his best ability, doing whatever he can to help the team win."
Gust has been playing varsity football since his sophomore year, and has had a big impact on previous teams.
"Next year will be very different without him on the team, he is an absolute boss" says Junior quarterback Taylor Aho.
"He has added a different aspect to the team that will change the ways things are next year." shares Junior tight-end Nick Gerlach.
Gust's goal for his senior year football season was to make it to the state tournament. Unfortunately the Saints were defeated in the sections finals, but they still had fun making memories as a team. Gust's favorite memory from his senior year season was beating Coon Rapids, who is ranked fifth in state, 17-0 during sections.
As the All Star game is quickly approaching, Gust has been working out to prepare and stay in shape for the game.
"I am very excited for this opportunity," said Gust, "football has made me mentally and physically stronger."