One Stage, One Night, 9 Artists… KDWB Jingle Ball 2018 Did Not Lack Energy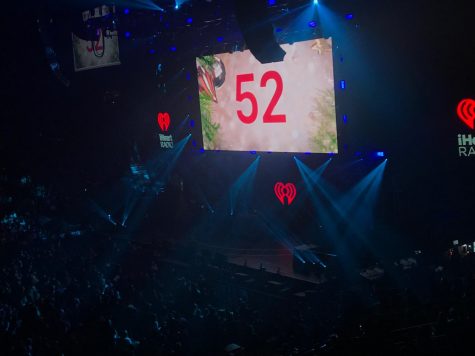 Every year, one of the biggest concert events makes its way to Minneapolis to kick off the holiday season. Thousands of people gather at the event, some dressed up in Christmas sweaters, and some dressed to look their best. But looks don't matter nearly as much at this kind of event; everyone is there to see the big stars that have decided to make an appearance that night. This was my first experience at Jingle Ball.
The first artist to take the stage was Kim Petras, a German singer and songwriter, who also happens to be a member of the LGBT community. She got the crowd on their feet and ready for the many artists to come with her hit song, I Don't Want It At All. Her DJ enjoyed  being on stage; he danced around and went crazy. He was definitely fun to watch.
The next artist to get the crowd roaring was an American singer/songwriter, Bazzi- famously known for his songs Mine and Beautiful ft. Camila Cabello. He got the crowd on their feet and dancing when he performed both of those songs, and energized the crowd. I had a blast dancing to some of my favorite songs of his.
The third artist was 18-year-old Sabrina Carpenter, who you may be familiar with. Not only does she have the hit song Why and the newer song Sue Me, but she also was a main actress in the now-cancelled Disney Show, Girl Meets World. ( a spin off of the 90's show Boy Meets World) Many younger fans were excited to see her.
The Chainsmokers, made up of Andrew Taggart and Alex Pall, were the next duo to take the stage. (With a big intro, I might add.) Crazy lights were flashing rapidly as their song Roses played while they came on stage. The group added fireworks, flames, and smoke to their performance, making everyone go crazy. They got nearly everyone on their feet and dancing as they sang songs that almost everyone was familiar with, including Something Just Like This and Paris, as well as a new song titled Beach House. Taggart and Pall also performed their 2016 hit, Closer, but many fans were disappointed when the two didn't bring Halsey out to sing her part of the song. (Me included)
After the Chainsmokers took everyone's breath away, Bebe Rexha was next in line. She started off her performance by singing Me, Myself and I– one of her most popular songs featuring G- Eazy. Everyone seemed to adore Rexha as she engaged with the crowd and even brought a fan on stage for her final song, If It's Meant To Be. The fan had been following Rexha on tour for 8 years, and had a blast dancing and singing with one of her favorite artists.
Dinah Jane, a 21-year-old Fifth Harmony member, took to the stage after Rexha. The young artist is just launching her solo career and performed a new single, Retrograde. I, unfortunately missed her set but I could tell that the crowd adored her.
Following Jane's performance was the Australian group, 5 Seconds of Summer, who seemed to draw many people to the Xcel Energy Center that night, including me. They opened with their 2014 chart-topping single, She Looks So Perfect, and then continued into one of their newer songs off of their 3rd album (titled Youngblood) called Valentine. There were many people who got into the music, but when the band jumped into their hit single Youngblood, everyone in the stadium seemed to go wild. Looking out at the crowd, you could see everyone clapping along with the lead singer. It's no doubt that this group is taking the world by storm with their new sound.
Right after 5 Seconds of Summer, the crowd was still going wild as Halsey ran on to the stage. The atmosphere was full of energy as she started off her set with Eastside, a song she is featured in with Khalid and and Benny Blanco. The crowd went crazy when she sang her own version of Closer. The lights went down and phone lights swayed back and forth as she slowed the song down significantly. Then, Halsey jumped back into the more upbeat music, ending her set with her latest song Without Me, which is one of my favorite songs.
The last artist to perform at KDWB Jingle Ball 2018 was a group from South Korea – Monsta X. There were plenty of people who started to leave, but I stayed back to see what this group had to offer. Their music was actually very good, and you could feel the energy and the passion within the lyrics, even if you didn't know their language. They also knew how to dance, and I was taken by surprise at how talented they were. Many fans of the group were dancing and screaming as the group finished their set and said their goodbyes.
Overall, Jingle Ball is definitely an experience that you shouldn't pass up. The atmosphere is amazing and it's so cool to see such a variety of artists in one night. Take my word for it and make sure to save up for next year's event!