New attendance policy makes the grade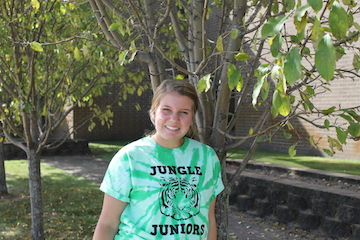 More stories from Cassidy Adamson
This year, unexcused tardies and absences will have a new consequence to students. Every time that someone is unexcused, they will get detention for their academic time and during lunch.
The old policy was if a student had three or more unexcused absences and tardies, they would have to attend Saturday school. If they did not attend Saturday school, they would be docked one-third of a letter grade.
"It's clearing up our attendance quicker because this way students are more accountable, and get their parents to call in that they were absent," said Principal Doug Austin
There is no more grade reduction if students are not in class.
Junior, Kaitlyn Vondall said she likes the new policy because your grades shouldn't be affected by your attendance.
"We want it to be more of a discipline penalty more than an academic penalty," said Austin.
"I'm not usually the person to be late to class, but I feel like it's very important and it really helps kids get to class on time and be ready to learn," said senior, Jake Vanness.
Social studies teacher, Julie Cuscaden, was part of the committee that was developed last year that made the absence and tardy policy. Concerns were brought up on how affective the old policy was.
Austin and Cuscaden, along with other teachers, students, and principals talked about the issue, gathered information from what other districts were doing, and figured out what they thought would work well in the building. They took all of the information and developed a policy to present.
"By having consequences that involve the student's time and having that during the school day and potentially taking away time with their friends," said Cuscaden, "that's highly motivating to most people."
If students do not attend detention or go in a timely way, they will have additional penalties.
"If you're absent from one class, you're basically doing an hour of detention," said Cuscaden. Attendance clerk Karyn Graberyk thinks the policy is working.
"I think it's doing all the things we wanted it to accomplish," said Graberyk. "The feedback from students, staff and parents has been really wonderful."
Austin says he wants students to understand the importance of being here academically.
"The more you're in school, the more likely you are to be successful," he said.
Leave a Comment