Memorial room to be displaced in renovations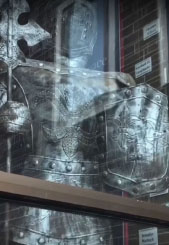 The tall windows at the front of the school glisten with the unfulfilled hopes and ambitions of the students' names on the wall behind the glass.This is an area of the school that holds a special remembrance for students and staff who have passed away while attending the school.
"The memorial room was developed 10 to 15 years ago in memory of students and staff that have passed away while being here at St. Francis High School or shortly thereafter," said Principal Doug Austin.
Many students walk by this area of the school without ever acknowledging the stories and memories of these now passed students.
Barb Anderson, a mother of former students and long time member of the community brought the idea of the memorial room to life and found a place for students and staff to be remembered.
"There was a time when there were a number of students who had died at the same time within the school," said Anderson. "It was big – it was an important thing going on in the lives of students."
Anderson recalled the room having once been filled with lots of furniture, pictures and other items of remembrance. Now the room sits barren with nothing other than the school's mascot.
"Well what we did was try to remove them and try to get them back to family," said Austin. He admitted it "was a little bit challenging" as they were not always able to get the items back to the families.
Anderson calls the room's old look to mind before she helped transform it into something meaningful.
"This space used to be covered by paper, the window you couldn't see in the school. It was covered by paper and all these other things are covered by paper, all the other windows," Anderson said, "we thought, let's take the paper down and get the names of the students and staff written nicely and all in one spot so they would not be forgotten."
Anderson and families of the community hope that the memorial room and the students will not be forgotten when it comes to building renovations.
"I'm sure we will try to look at where would be the best place to put that within the building," said Austin.
There is still some time before renovations within the school start, but blueprints are being drawn up regarding different areas of the school.
"It won't be in that spot but really, right now," said Austin, "we haven't really done a lot of thought as far as where that would go."