Breaking News: School cancelled for February 22, 2022 for Snow Day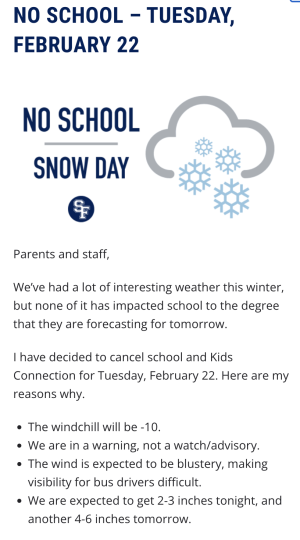 Superintendent Beth Giese sent an email and a phone call at about 7:00 pm on Monday, February 21 announcing a snow day for Tuesday, February 22.
Giese cited several factors in her decision to call the snow day, according to the email.
The windchill will be -10.

The weather service issued a full warning, not a watch/advisory.

The wind is expected to be blustery, making visibility for bus drivers difficult.

We are expected to get 2-3 inches Monday night, and another 4-6 inches on Tuesday.
"I am making this decision this evening so that you have plenty of time to prepare," she stated. "As you are aware we have two snow days built into the calendar. Tomorrow will not be an e-learning day."
In addition, all after school activities were also canceled.