Saints Football gives game ball to embattled teammate
In their tackle cancer event, the Saints have a big win for Bonte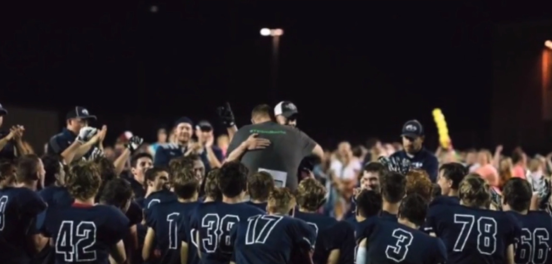 Hang on for a minute...we're trying to find some more stories you might like.
After the Saints Football Team won their first game of the season against Monticello on Friday, September 15th with a score of 44- 20 they awarded the game ball to teammate and captain Luke Bonte who dealt with an early season blow –  being diagnosed with Stage Three T- Cell Lymphoma.
"Luke Bonte is a good football player. He played varsity football as a sophomore and made a lot of good plays for us," said varsity football head coach Brent Swaggert. "He was set to be a starter at outside linebacker for us in August before his diagnosis."
Many friends, family and even community members went through a difficult time trying to believe that this was actually happening to someone so close to home.
"We went to the hospital quite a bit. We hang out with him all the time and ever since he's been out of the hospital we try to visit him as much as possible to show we love him and we're all there for him." said Tommy Ficocello, one of Bonte's friends .
Football players and coaches had to deal with the tough loss not being able to have Bonte on the field with them.
 "I've played football with him my whole life and not seeing him on the field was kind of upsetting." said friend and teammate Brandt Becker.
Luke's diagnosis didn't just affect his teammates. It really touched close to home. Luke's brother Zach played with him on the field as well.
"He's been one of the best influences on me," said Bonte's little brother Zach, "by just being a better person." 
Before the game, Coach Swaggert had a talk with his team.
"In the pre-game speech we talked about – with the tackle cancer night – about giving the game ball to Luke," he said. "As a group we decided it meant a lot more to win the football game and give the ball to Luke than to be on the other side of it. I'm really thankful things worked out."