15 Saints who made a difference
Samual Asid, Logan Cox, Collin Dellis, Chase Fiene, Reese Grisé, Kaiden Heckenlaible, Cam Husby, Taylor Morehouse, Emily Pipp, Ariana Rinnet, Grace Skogquist, Brayden Terris, Joseph Waldock, and Amen Odumakin
May 31, 2023
Because St. Francis Area Schools is District 15 – SFHS Media chose to shine a light on 15 of many seniors who made a difference in the St. Francis Schools and community. Teachers, coaches, advisers and administrators nominated candidates and these 15 Saints represent students who excelled in academics, activities, and athletics.
These students leave behind a legacy of leadership:
1. Chloe Betterman  – Theater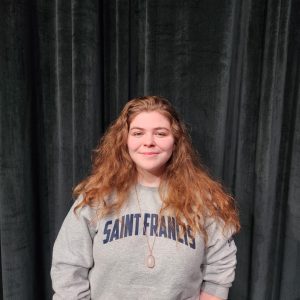 Chloe Betterman encapsulates everything theater. At the Theater Awards, Chloe was given the Spirit of Drama award for being SFHS Theater's most active member in the last four years. Whether it's acting, directing or being backstage, Chloe Betterman does it all and is always putting the show first.
"Everything that Chloe does in theater is unselfish and for the betterment of the program" said Director Glenn Morehouse Olson, " I can't think of anyone better than her to have won the Spirit of Drama award".
Not only is her influence felt when she is acting, but it's also felt in each show's set. Being consistently enrolled in shop classes here at St. Francis, Chloe is always seen helping out at a set build.
Last year Betterman was given the Teddy Bear award, a show of gratitude from everyone in theater for how much she has been a beacon of light and comfort. You can still catch Chloe at this year's Summer Musical Matilda Jr before she gets ready to pursue a career as a writer and author.
2. Matthew Bothun – Basketball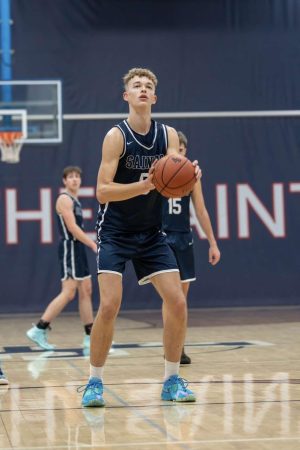 Matthew Bothun has left quite a lot behind him after finishing up his last year of High School. He currently holds and will likely continue to hold many records as far as basketball goes. His work ethic and leadership will not be forgotten.
"He's left quite a legacy as far as basketball is concerned," said Assistant Coach Matthew Norton. "He broke multiple school records this year and became our school's career leading scorer." 
That record Bothun broke was last set 28 years ago.
"I think my message is just to work hard and chase your dreams," said Bothun who has been known to have been chasing his dream to play basketball at the Division I level, a goal that he achieved when he committed to play at the University of North Dakota.
After many years of hard work and time put into his career, Matthew Bothun will not be forgotten as one of the best athletes this school has had as he ventures off to North Dakota next year.
3. Natalie Campbell – Choir, Theater, Student Council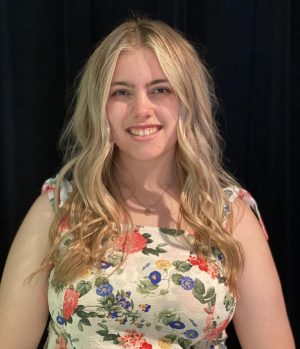 Natalie Campbell was nominated by a teacher who remembers her fondly from middle school.
"As seventh grader she brought a lot of laughter and joy to my classroom she's a hard worker she helps everyone to achieve their best" said her middle school teacher Dawn Nordin.
Throughout her time in high school Natalie has been involved in Show Choir, Student Council, and Theater. 
"I have been involved in student council for three years I was the production stage manager for the past six shows for our theater company and I was the dance Captain for Bridge Street singers for the past two years and I've been into acquire for six" said Campbell 
She has accomplished many things and been an overachiever for her teammates and classmates to do their best.
"She's going to be going to Anoka Ramsay next year to become an elementary school teacher. I'm very proud of the woman she's become," said Nordin 
"I want to leave behind my hard work for the underclassmen that I taught on Bridge Street, and I hope everybody just keeps up the hard work," said Natalie.
4. Philip Conant – Football and Track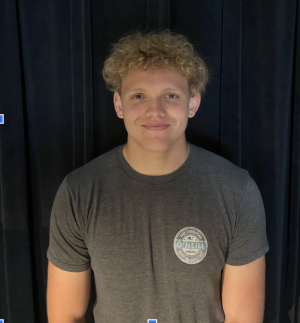 In St. Francis, Philip Conant has done lots of volunteering as well as helping with youth camps in football. He also has made a commitment to  work with his church and started the Fellowship of Christian Athletes (FCA) program in the school. 
He appreciated how St. Francis has taught him to come together as a group, besides the differences in everyone. 
"He has done some really great things and has worked really hard for the accomplishments that he's achieved so far," said nominating coach Matt Norton. "I know he's going to do great things in the future as well."
He hopes to leave behind a positive reputation in the schools. In sports he sees himself as a leader whereas in the classroom he wants to be helpful and caring to other students. 
Philip has lettered in football and track 4 times. He won all district two times, section MVP, made the all star team and was a captain in football. In track, he won all conference eight times, team MVP, holds the school record in disc while also competing in shot put and the relay team,  and was also a captain twice.
He will be continuing his education after high school at Bethel University studying exercise science and will be playing on the football and track team.
5. Tyler Edwards – Student Council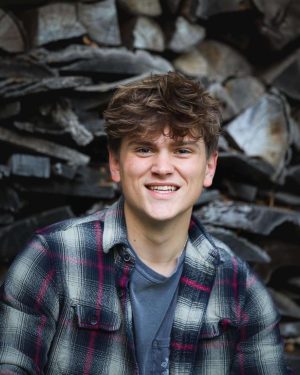 Tyler Edwards was nominated by Mrs.Olson as one of the 15 Saints who have made a difference here at St. Francis High School. Tyler was nominated as our student council president and has done nothing but great for this class as well as the whole school. Tyler has organized a number of pep fests and even for the first time got one added for teacher appreciation and spring sports. Many of the public events in our highschool were also organized by Edwards and this kind of leadership has sure set him up to be successful in life.
"Student council has given me a lot of connections through the school and staff members as well as getting friends that i am very close with now"
For Tyler student council wasn't just about helping people out and giving our highschool the organization it needed but he also said how he has enjoyed the responsibility as well as making most of his friends that he may hold on to for life.
Mrs. Olson says that one of Tyler's greatest accomplishments in student council has been discussing with Savanna Reighnertson about the need of a NACE food drive and Tyler took charge and led the food drive that brought over 1000 items to the food shelf that will go to people in need.
Truthfully our students don't realize the time and effort that goes into all these events that they enjoy and the hardwork someone like Tyler has committed to making St. Francis a better place.
6. Riana Ingberg – NHS, Art, and Yearbook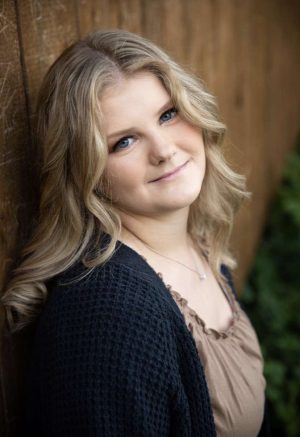 Riana is a bright and shining light at St. Francis, she is a part of National Honor society, student council and yearbook. Riana used her creativity to help design the yearbook. Her creativity helped her stand out with her art pieces in ceramics and drawing.
"I've learned to be a saint and have pride in my work" Riana said, she takes pride in everything she does.  She has high standards and pushes herself to be better.
She's kind, she's honest, she's hard working and she leads a really good example," said Mrs. Paquay "I enjoy Riana's  creativity. She does things differently, her attention to detail is phenomenal. She's not afraid to forge her own path and do something different."
"Being editor and chief of yearbook is something I'll always have, it's one of my biggest takeaways," said Riana. "It's a big responsibility and you learn a lot about being a leader. Like the yearbook is something we all get to enjoy, bringing joy to everyone here and the students is something I'll always have with me."
7. Joseph Jacobson – Theatre and Choir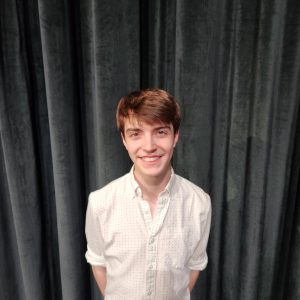 Joe Jacobson shined bright on the stage in his final year of High School. In both theater and choir, Jacobson's passionate performances wowed many and his dedication to the performing arts is second to none. 
"Joe is an impeccable performer, he loves to learn, he is a perfectionist," said Director Glenn Morehouse Olson, "he takes notes that are given to him and he makes improvements every single moment that he is on stage."
Jacobson would agree.
"All the small things that you wouldn't think are huge are the biggest things to me," said Jacobson and his drive to improve shows in his accolades. In the past year Jacobson has been a two time Triple Threat finalist, gotten the spotlight award for outstanding performer in both the fall play and spring musical, All State Choir participant and Best Male Vocalist in Show Choir. 
From a lifelong love of singing and a sister who inspired him to join theater and show choir, Joe Jacobson has now  sprouted a burgeoning career in performing arts as he will be attending Millikin University in Decatur, Illinois to get his BFA in Musical Theater.
8. Brady Johnson  – AAA-Athlete of the year

Brady Johnson is a senior who has dedicated a lot of time to his time here at Saint Francis High school. He's a three sport athlete, involved in the Band program, and is involved in other activities, too.
"To be as consistent with working at his craft and his schoolwork and being a great citizen and classmate and leader in the school is truly impressive," Brent Swaggert told us. "We have a lot of special people and Brady is definitely one of them."
Brady has also worked hard in academics, he is one of the top of our class, which helped him earn 10 scholarships. Brady has not only been successful in his academics, he has also been a very involved athlete at SFHS.
"I also won athlete of the year which I am very honored and grateful for and I've worked hard throughout high school for this opportunity." Brady said. " I really enjoyed playing sports and being in a band and they made a lot of memories and enjoyed it with my friends."
Brady worked hard throughout high school and it's really paid off. He has been a leader for peers and role model for future students and one of the many great representations for our school.
"I don't regret anything from high school. Everything I did helped me win all these scholarships and will give me good opportunities in college and moving forward in life."
9. Easton Johnson – Football, Wrestling, Announcer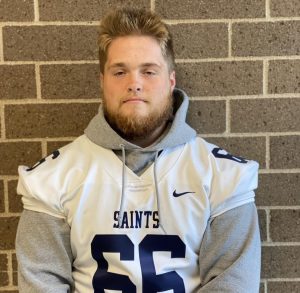 Easton Johnson is a leader in our school and was nominated by Stephen Girard. For his dedication to Sports. Easton played varsity football for 3 years, wrestled for 4 years and was very dedicated to the strength program.  Easton led by example and always gave it his all.
"So Easton has started off by changing the way that he thinks and the way that he moves" … "He's really been an inspiration to everybody else to essentially say if Easton can do it I know I can do it. So that's how I know he has kind of changed the culture of the high school." Said Stephen Girard.
Easton has really shifted his mentality and has spread this to the younger kids, creating a huge culture in the weight room for underclassmen.
What have you learned from highschool that you're going to take with you for the rest of your life? "I've learned that life goes super fast and not to take anything for granted, especially the friends that are around you" Said Easton Johnson.
Easton not only made an impact in sports but also by volunteering to announce for the girls softball team. He has announced for two years now and has spent a lot of his own free time Helping create a fun environment for players, family and students.
10. Maddie Johnson – Soccer and Athena Award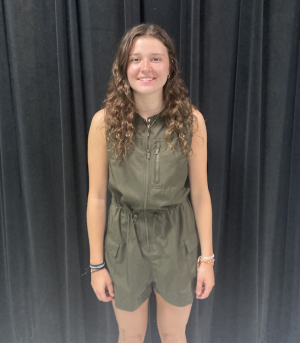 In her years at St. Francis Maddie Johnson has competed in two sports: soccer and basketball. She has excelled in both of the sports at the conference level and at  the state level. She also has excelled in academics and at the end of the year she received the Athena Award.  
"The Athena Award is an award that is presented to a Female athlete that has done well in both sports and academics," said Johnson.
She has not only done well in athletics, but she also has learned how to lead a group with tremendous leadership. 
"As I've gotten to know Maddie, she has shown really good leadership and will leave big shoes to fill in the program" said Principal Doug Austin. 
She says that she hopes to leave a positive environment where people feel free to play the sports that they love. 
"She's got a fun personality and she is always trying to be positive," Austin said. "I will really miss her leadership and I wish Maddie the best."
11. Wes Johnson – Football and Basketball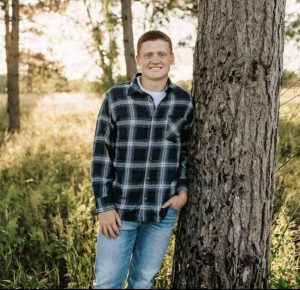 Wes Johnson has been one of the most impactful seniors this year. He has been a standout player in basketball this year. He received all conference for academics and honorable mention as a player. 
Wes also led his team to state this year in basketball. Starting all 32 games, Wes was someone you can count on. 
"My favorite memory was making it to state this last year. Being able to play in Williams arena and the whole atmosphere was super fun," Wes said.
Football was another sport that Wes excelled in. Matthew Norton said, " I've coached him in football and basketball and in both he's done some really great things. He was a defensive back and wide receiver for us in football." Teachers spoke very highly of Wes. 
One thing Wes was not is one-dimensional. He had great grades and received many scholarships. He plans on attending University of Minnesota-Duluth this fall. 
12. Julietta Marin – Band
Julietta Marin was nominated by Band Director David Bechard for 15 Students Who Made A Difference. Julietta was the first Saint Francis High School students in a number of years to be accepted into the Minnesota All State Honor Band. 
"Julietta has done a lot over the years," Bechard said. "Recently she made it into the Minnesota All-State Band."
Marin found out she made it into All State at the end of April 2022. 
"At the beginning of August of 2022 I went to Concordia," she said, "We got back together in February and we performed at Orchestra Hall." 
Marin has participated in Wind Ensemble for the past three years. She also was in both jazz bands. 
"I've been in about every single activity that you can participate in for band," she said. 
Bechard wanted to honor Marin for her outstanding participation.
"One of the biggest things that she contributes is just her work ethic," said Bechard, "and her musical ability."
13. Rachel Molskness –School Community
Rachel Molskness is friendly and outgoing, she just wants to make Saint Francis High School a better place.
"She wants to make friends with whoever she meets," said teacher Kat Rehling.
Rachel's favorite class was world of foods with Kaitlyn Lemke.
"Ms. Lemke is the best teacher ever," said Rachel. "My best friend Savannah is in there and she tends to help me all the time."
Rehling nominated Rachel for her loving personality.
"She makes everybody laugh. She's very caring" said Rehling.
Rachel wants people to know that they all matter.
"I think it's best to be the way you are and that you are all beautiful so matter what you look like," said Rachel.
After high school Rachel would like to go to college to learn about dogs. 
"She is a bright sun light in my day," said Rehling.
14. Lauryn Perry – NHS, Gymnastics and Yearbook
Lauryn Perry has had an impact on many programs at St. Francis High School throughout her four years. She was the National Honors Society treasurer, Captain of the gymnastics team, and the Managing Editor of the yearbook.
She loved being a leader and setting good examples for the younger kids and she always cheers on her teammates and helps them get through their struggles. In the yearbook class she would always be there to help direct her peers to what needed to be done if they were lost, and in NHS she learned to be a strong leader as a member of the board. 
"Lauryn has made a positive difference in our community by setting a good example for others," said Yearbook adviser Joel Olson.
Olson said that she was very organized and knows how to follow through with commitments that she makes, not only in academics, but also in her sports.
" You can see the results of her efforts in her success on the gymnastics team and the efficient way that NHS was run. in part thanks to her contributions."said Olson. "Also in the yearbook this year. I think the yearbook has a real unified look and Lauryn was an instrumental part of making that happen."
Lauryn will look back on her high school career with fondness.
"Overall I just learned a lot of skills," said Lauryn,"and became a better person through the things I was a part of."
15. Lyle Pundt – Choir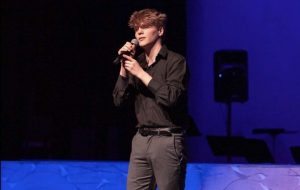 Lyle Pundt is the embodiment of choir and dance. Lyle has been involved with choir and show choir for his 4 years of high school. He has his sweet moves and killer voice that has grown throughout the years of hard practice. He has been involved with the smaller group in choir called "Madrigals".
"I think being a part of Madrigals and being a part of that last year was fun but this year I got to write the whole script. It was fun. I put a bunch of jokes in there and got to be a fun character and yeah made everyone had a good time." said Pundt.
Through his many years involved with choir and show choir he has made a nice relationship with his choir director Josiah Telschow.
"Lyle has been a really special member of our group for the past 4 years in choir and in show choir. He has been a great leader and I know him as somebody who prepares in advance and helps everybody to be successful by preparing rehearsal spaces and does a really good job teaching," said Telschow
Lyle also found a mentor in the show choir choreographer Nick Quamme.
"Lyle is someone who I think always brings 100 percent to the room no matter what he has going on in his own life or his school day," said Quamme. "He is always ready to work and I think he holds himself to that standard but also his peers. Everyone wants to work harder when Lyle is there and make sure everything is done in a professional and wonderful manner." 
Lyle plans on attending The University of Minnesota Twin Cities this fall to major in dance, after receiving a generous scholarship.