SFHS Alumna goes pro
Former Sun Devil Maggie Ewen breaks records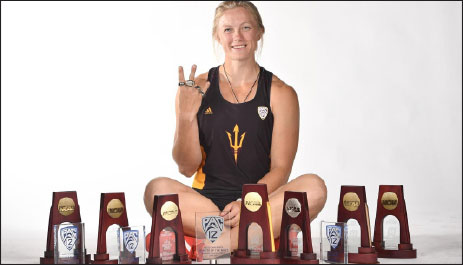 Maggie Ewen is one of the most talented track and field athletes to come out of St.Francis High School; she went on to smash college records at ASU and now has gone pro.
However, Ewen's success started in middle school as a standout on the softball team.
"Maggie was one of the girls who could throw a girl out from the outfield at home plate," said Ewen's former coach Jennifer Close.
One surprising thing about Ewen was that to her track was just an afterthought to volleyball.
"We (as a family) were more passionate about volleyball as a sport and track was just for fun," said Ewen.
When Ewen realized how good she actually was a throwing she decided to make volleyball just a for fun thing. However not focusing on volleyball as much as track was a hard decision for Ewen.
"It really hurt leaving volleyball behind I crave to play it sometimes."
On weekends Ewen still enjoys playing volleyball with her track teammates for team building. With her attention all on track, Ewen set multiple throwing records and won numerous state titles dating back to her freshman year.
"Just pound for pound she was one of the most explosive athletes out there," said Brent Swaggert, her former strength and conditioning coach.
After her illustrious career at St.Francis, Ewen took her talents to Arizona State on a scholarship for track and field.
"I never looked back, I started throwing hammer in college," said Ewen.
Ewen exceeded expectations in discus, shot put and even hammer throw which she did not compete in high school.
"She really took the world by storm," said track coach Mark Hanson.
In her years at Arizona State, Ewen held the NCAA throwing records in all three of her events. "The success that she has had doesn't surprise any of us that have known her for a long time," said Swaggert.
One important goal of Ewen's, according to Hanson, is to advertise the sport of track and field and promote it as much as possible. Hanson was Ewen's throwing coach throughout her high school career.
All of her former teachers and coaches agree that part of her success comes from her extraordinary work ethic.
"I was really bad at first but, I stuck with it because I really enjoyed doing it"
With her work ethic Ewen was able to excel at throwing throughout her career and can will probably do the same as a professional.