Legend Comic Book Writer Dead at 95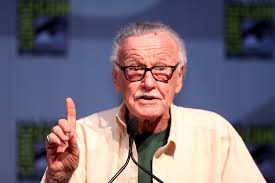 Hang on for a minute...we're trying to find some more stories you might like.
Stan Lee, an american comic book writer, died at 95 from pneumonia at Cedars-Sinai Medical Center. He was an comic book writer, editor, and publisher, From the 1940s to 2010s. He rose the ranks of a family-run business and became the lead Creative publisher of Marvel Comics for two decades. They expanded from a small division to a huge multimedia comic business that lead the comic industry.  The Stan Lee Foundation was founded in 2010 to help with literacy, education, and arts, The foundations goals include support programs, and ideas that helped schools with access to literary resources, promoting diversity, national literacy, national culture, and the arts.
He co-created, with particularly co-writer/artists Jack Kirby and Steve Ditko, numerous popular superheroes that are still very popular today. He co-created Spider-Man, the X-Men, Iron Man, Thor, the Hulk, the Fantastic Four, Black Panther, Daredevil, Doctor Strange, and Ant-Man. After his retirement in the 1990s he was a huge public figurehead for Marvel and made cameos in 2008 "Iron Man",  2008 "The Incredible Hulk",  2010 "Iron Man 2",  2011 "Thor",  2011 "Captain America: The First Avenger",  2012 "The Avengers",  2012 "The Amazing Spider-Man",  2013 "Iron Man 3",  2014 "Thor: The Dark World",  2014 "Captain America: The Winter Soldier",  2014 "The Amazing Spider-Man 2", 2014 "Guardians of the Galaxy", 2014 "Big Hero 6" , 2015 "Avengers: Age of Ultron",  2015 "Ant-Man",  2016 "Deadpool",  2016 "Captain America: Civil War",  2016 "X-Men: Apocalypse",  2016 "Doctor Strange",  2017 "Guardians of the Galaxy Vol. 2", 2017 "Spider-Man: Homecoming",  2017 "Thor: Ragnarok",  2018 "Black Panther", 2018 "Avengers: Infinity War",  2018 "Deadpool 2",  2018 "Ant-Man and the Wasp", 2018 "Venom".
Stan was raised in a jewish family and when he was asked in a interview if he thinks if God is real he stated "Well, let me put it this way… [Pauses.] No, I'm not going to try to be clever. I really don't know. I just don't know.". In 2018, The Hollywood Reporter published an article claiming that Stan Lee was an victim of elder abuse. Keya Morgan, business manager of Lee and a memorabilia collector, had been isolating Lee from his trusted friends and associates following his wife's death. To get access to Stan's wealth that was estimated to be about 50 million. In the end Morgan was issued a restraining order to stay away from Lee, his daughter, or his associates.
Ray Thomas, who succeeded Stan as editor-in-chief, visited him in the hospital two days before his death to discuss the upcoming book The Stan Lee Story, and stated "I think he was ready to go. But he was still talking about doing more cameos. As long as he had the energy for it and didn't have to travel, Stan was always up to do some more cameos. He got a kick out of those more than anything else.". He was a huge public figure especially for people who grew up reading comics, he will always be remembered when people watch or read about the superheroes and their stories that he helped create. Lee was inducted into the comic book industry's Will Eisner Award Hall of Fame in 1994 and the Jack Kirby Hall of Fame in 1995. He received the NEA's National Medal of Arts in 2008.  Stan Lee will always be known as "The Man" Behind comic-book superhero myths.