Cody Pennebaker Basketball Update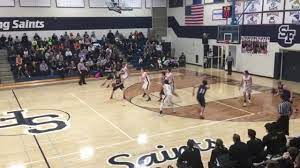 Basketball. An overpowering sport on your mind and body. 
Since he could remember, Cody Pennebaker has always dreamed of his current day to day life; All star player, seen by many, talked about by many. These things have just become a habit. 
One of Pennebaker's many accomplishments while playing basketball included being nominated as Top Performer of the Week on MN Basketball Hub. Even though he did fall short of 1st place, he is still honored to have the opportunity that was given to him. 
Pennebaker, along with Matthew Bothun and Jacob Schultz, have had incredible personal plays, such as assists, dunks, three pointers, etc. Against their opponent Big Lake, Pennebaker has three incredible dunks. 
There have been several colleges that have reached out to Pennebaker  to play basketball for them, but he had this to say about it: "In college I am going to play basketball, but I am undecided on where." 
The Saint Francis Fighting Saints Boys Basketball Team still have a long, successful road ahead of them.